Floss' Dental Hygiene Services
New Dental Patients Welcome!
Save $30 on your first cleaning!
Ottawa's Place for Dental Hygiene Services
Whether you require an appointment to maintain your good oral health or catch up after some time away;
we provide full-service dental hygiene care to meet all your oral health needs.

ASSESSMENTS
Everything from dental hygiene assessment, dental hygiene diagnosis, oral cancer screening, recording dental history, charting, treatment planning and case presentation.

DEBRIDEMENT
We clean & remove deposit & debris from your teeth, both above and below the gum-line. This is a therapeutic procedure that can reduce inflammation in the gums.

STAIN REMOVAL
Also known as "polishing," this process makes use of pressurized baking soda and water, or a hand piece with a mildly abrasive paste, removing superficial stains from your teeth

FLUORIDE TREATMENT
Application of a fluoride varnish to aid in desensitizing, cavity prevention or remineralization of tooth structure. Fluoride supports healthy tooth enamel & fights bacteria.

DESENSITISATION
This procedure may involve the use of desensitizing agents to reduce tooth hypersensitivity towards your favourite food and drinks, while addressing the root cause of your sensitivity.

TEMPORARY FILLINGS
A therapeutic temporary filling placed when immediate access to a dentist is not available or possible. Contains fluoride to help minimize growth of bacteria, and reduce sensitivity.

SEALANTS
A thin layer of white filling material is placed in the small crevasses of newly erupted teeth to protect them from bacteria and to aid in the prevention of cavities and decay.

SPORTS GUARDS
Our custom molded guards fit over the upper teeth and gums to prevent and reduce injuries such as tooth loss, concussions, fractures, and lacerations to the mouth and gums.

WHITENING
A process of bleaching the teeth with a professional grade peroxide gel. Offered either as a 1hr in-office treatment or as a take home application, providing a bright smile!
Book an Appointment
Interested in our services? Get in touch with us via the form below and we'll get back to you in a jiffy!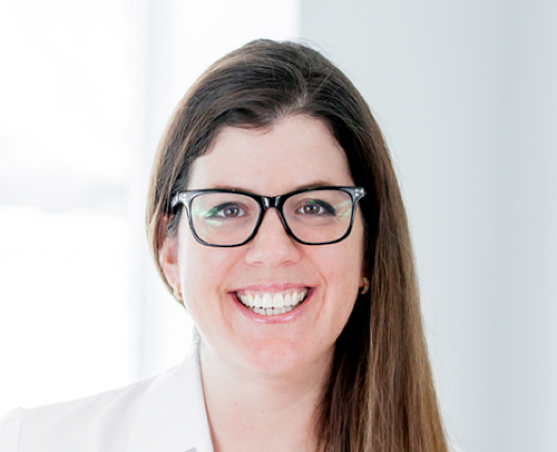 Our Lead Hygienist
Amanda Acker - DIPDH, RDH

Amanda is a proud Ottawan that is as passionate about the city and her community as she is about her patients. Graduating from Algonquin College in 2001 with a Diploma of Dental Hygiene, she has since become a member of the College of Dental Hygienists of Ontario and serves as the National Independent Practice Advisor for The Canadian Dental Hygienists Association.
So many reasons to smile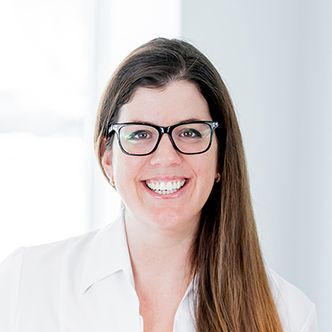 "It has been incredibly humbling to see how welcoming and supportive the community has been since opening our doors in 2014. Serving our vibrant neighbourhood has been such a gratifying experience for me; I look forward to many years to come."
AMANDA ACKER
owner of Floss Dental Collective
Welcoming Dr. Rachel Kathavel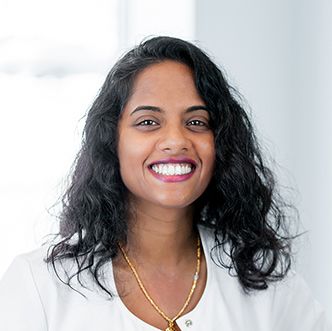 "Dentistry can be overwhelming for some people. Taking the time to help my patients understand their treatment options and be comfortable with their choices is important to me and something I enjoy doing."
DR. RACHEL KANATHAVEL
member of Floss Dental Collective since 2017
My 2nd Anniversary with Floss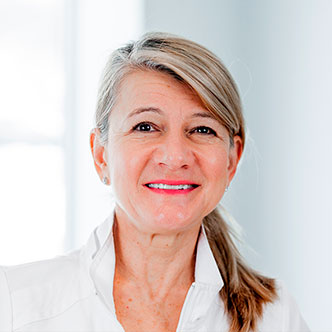 "Working as a dental hygienist has enabled me to continue my success in helping my loyal clients achieve their oral health goals."
JANET THOMPSON
member of Floss Dental Collective since 2016
My 3rd Anniversary with Floss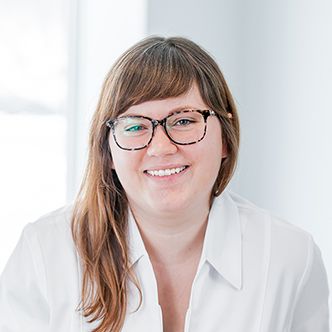 "I love my job. Being able to greet each person that walks through the door, and ensure they feel welcome and comfortable is rewarding to me. Working both as a receptionist and dental hygienist provides me with the best of both worlds."
FREYA POTTER
member of Floss Dental Collective since 2015
My 3rd Anniversary with Floss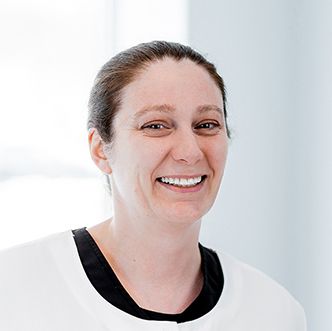 "Helping my clients overcome their dental anxieties is one of the most satisfying parts of my job. I especially enjoy working with those with special needs and dementia."
AMY PITRE
member of Floss Dental Collective since 2015
Happily Serving Clients Across Ottawa
Floss Dental Collective is proud to service our surrounding neighbourhoods including Little Italy, Westboro, Hintonburg and Centretown! If you are looking for a new dentist, or dental hygienist get in touch today!
Book an appointment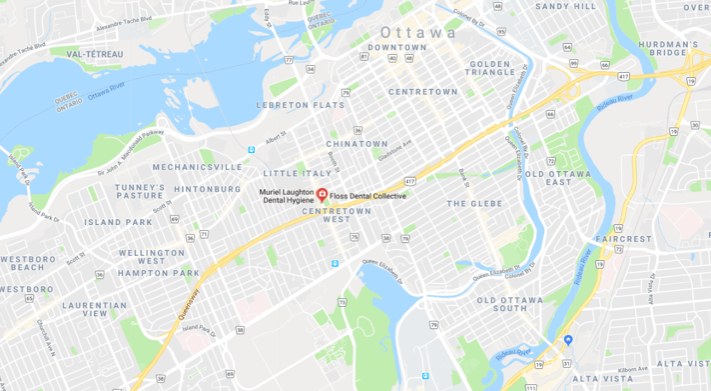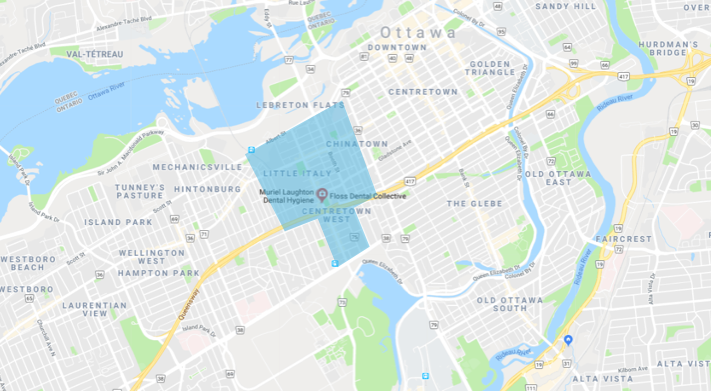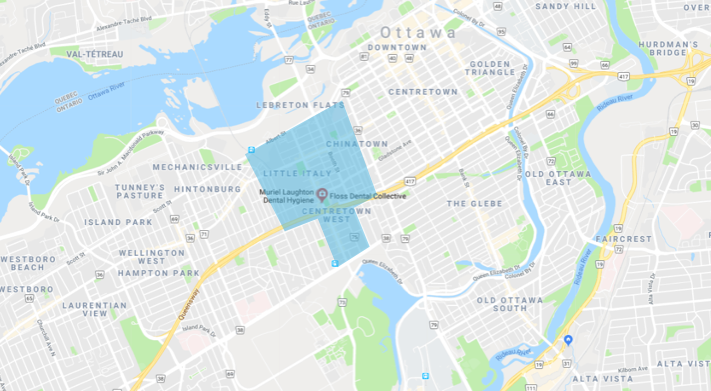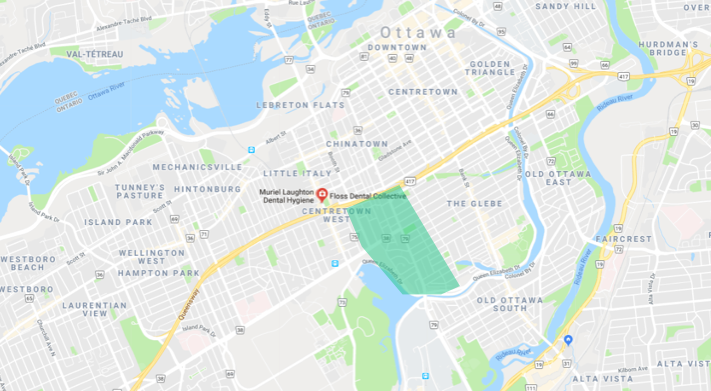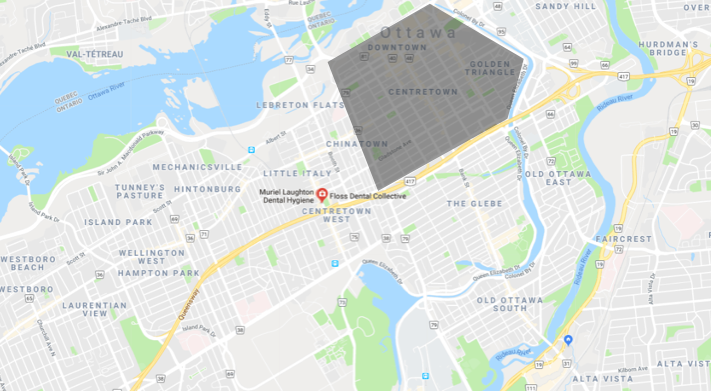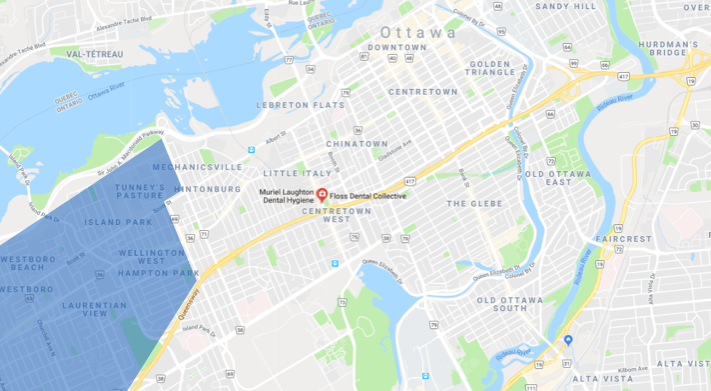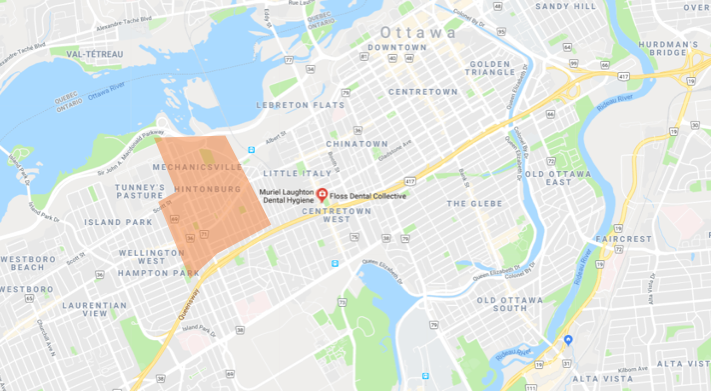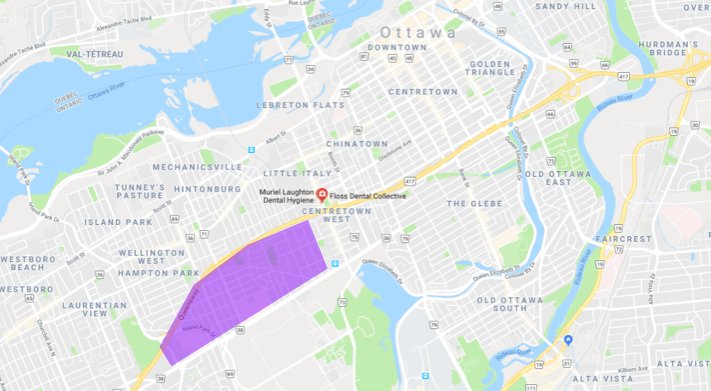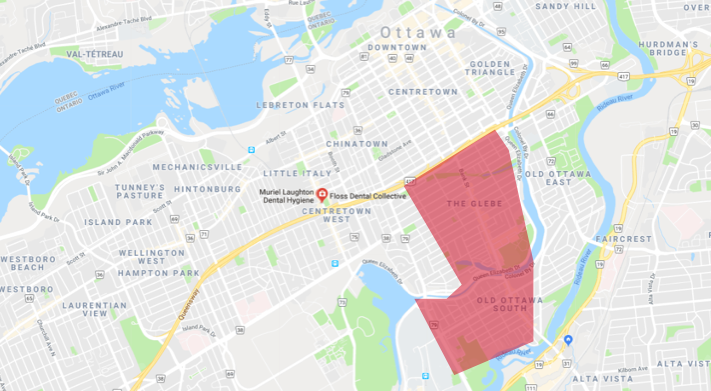 Little Italy
Preston
Bronson
Centretown
Westboro
Hintonburg
Dow's Lake
Glebe