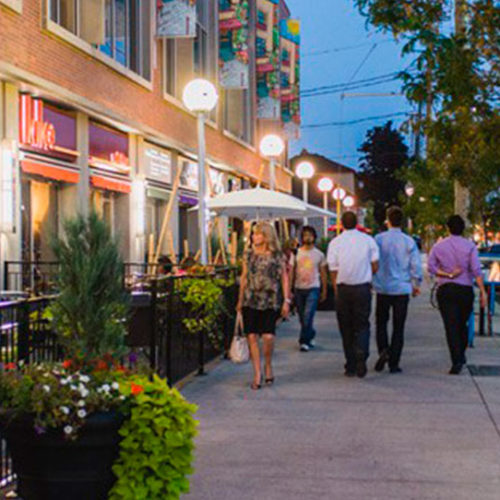 Centretown Buzz Feature
"Everyone deserves the same quality of care" is the motto that Amanda Acker uses to describe her newly opened business. Capital Dental Hygiene, located at 300 Preston Street, uses a model of service that is new to the dental industry. Independent registered dental hygienists are primary care providers in this clinic, with referrals to dentists based on need only. This allows the public to access dental hygiene services directly and with ease.
Oral health care includes assessment, scaling, polishing, temporary fillings, sealants, fluoride application, whitening and oral cancer screening. This all takes place in a calm and quiet office without the sound of drills. Anyone with dental-related fears can relax at Capital Dental Hygiene.
Acker describes herself as a primary health care provider, placing education high on her list of professional priorities.
She wants her patients to access dental care in a new way, allowing them to question the services offered in order to receive the best possible dental care. "Going against the grain" is something Acker had to be comfortable doing in order to achieve this goal. She believes that if you know you can make a difference then your dream is worth pursuing. Capital Dental Hygiene stands out for its commitment to underserved populations. One of the fundamental goals is to increase accessibility to quality professional dental hygiene services. Patients who are supported by social assistance are welcome at this Centretown clinic.
As well, Amanda Acker works closely with the Somerset West Community Health Centre and the Royal Ottawa Mental Health Centre to promote preventative interventions among groups of people who rarely receive dental care. Having opened in November 2014, this new entrepreneur has relied on the support of others in order to get her business up and running.
Collaborating with like-minded people is essential to building a network that supports each other. Capital Dental Hygiene has made good use of a website developer, IT and security system professional. As well, the artfully designed office was created by Denis Villeneuve at Studio S Interiors. Acker was thrilled when the renovations came well under industry standard budget and says it was "a dream working with this team."
The business side of health care requires as careful attention as the service to clients. Acker has found the process of starting her clinic to be both terrifying and thrilling. She encourages potential entrepreneurs to find their passion and not let it go. Relying on intuition, never taking no for an answer and "putting my nose to the grindstone until you get there, and then more nose to the grindstone," has provided the resilience required to run a business.
Amanda Acker is bringing a new approach to dental care with patient advocacy a driving force behind her motivation.
Capital Dental Hygiene welcomes new patients and is open six days a week.
Original Article;
http://centretownbuzz.com/2015/05/22/local-entrepreneurs-capital-dental-hygiene/